Recently I had a chat with Moses Katala, CEO of Mago Farm. In this interview, he shared his 10 months journey of helping farmers get access to better animal feeds in East Africa.
💡
MagoFarm is an insect technology startup that focuses on producing organic proteins from insects. We are driving inclusivity into the international animal feeds industry by making affordable, nutrient-rich and eco friendly feed-protein ingredients accessible to small scale livestock farmers.
Why are you passionate about entrepreneurship?
After graduating from high school in 2017 in Dar Es Salaam, Tanzania, I made the move, shortly after in September, to Kigali, Rwanda where I am attending the African Leadership University. This is when I started to develop a strong interest in innovation and entrepreneurship.
In October of that same year, I participated in the Hult prize entrepreneurship competition and my team won a $30,000 investment which allowed us to validate our first business idea.
We progressed on our business endeavor by interviewing smallholder farmers all over Kigali and the surrounding areas. After a few field trips and spending weeks surveying the farmers, we developed a solution to provide a more cost-effective irrigation technology.
With the developed technology, the farmers can use cycling materials to generate electricity, which would then be used to pump water from nearby sources, directly to the farm. This idea felt right, and I wanted to do more.
Then I started a second startup, a software development service, which focused on e-commerce to help SMEs with effective advertising using a low-cost budget. This is atypical due to SMEs normally not having the knowledge in digital marketing or the budget to attempt.
Why and how did you start Magofarm?
My true passion lies in agriculture and I noticed that there was a common denominator of livestock farmers struggling with the relative cost of animal feeds that prove to be expensive and inefficient. I wanted nothing more than to assist in any way that I could.
The livestock market in Africa is booming from the ever-demanding need for meat and fish products. With a growing livestock presence, the issue of needing more animal feed arises, which our continent currently lacks the production for. This results in a domination of foreign companies in the African market.
Without Africa being the leading force for animal feed production in its own market, we are losing 50-70% of the potential profit gain, the largest opportunity for profit, to foreign suppliers.
Africa also has a population that is rising faster than many other places in the world and without effective animal feed– problems with food security and widespread hunger could begin to become a reality.
This was why I started to explore other protein ingredients that were more reasonable for African livestock farmers. We realized that insects could be a good alternative.
I wanted to propel this idea into a reality, so I participated in the Ignite Africa challenge; this competition allows Africans to annually collaborate for ideas in problem solving scenarios.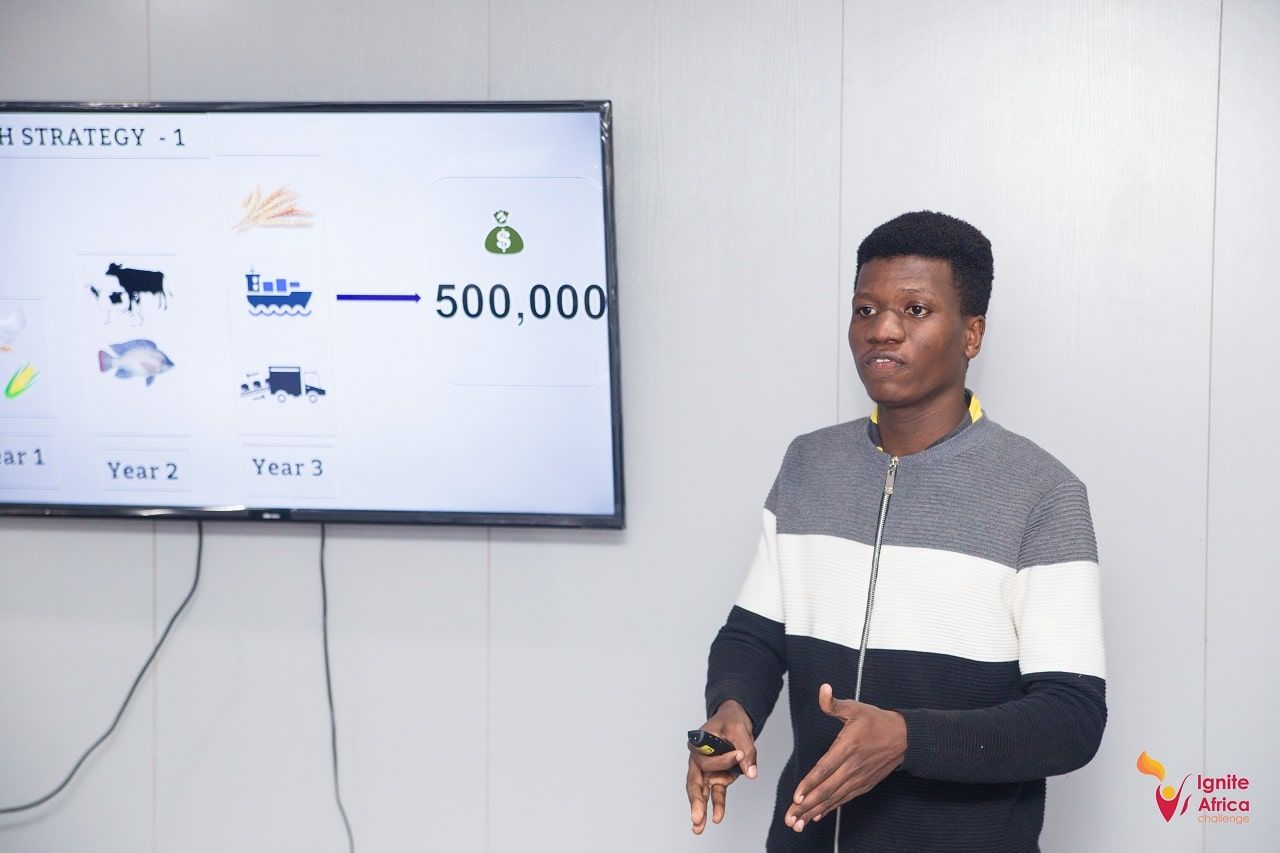 My team and I came with an idea in mind and left with an award of $100,000 to proceed with our animal feed project. In June 2019, Magofarm was then created as an insect technology startup focusing on producing organic proteins from insects.
We are aiming to bring inclusivity to the international animal feeds industry by producing affordable, nutritious, and eco-friendly protein ingredients and making them available to small scale livestock farmers.
What does Magofarm offer?
There are 150,000 poultry farmers and several large animal feed manufacturers, located in Rwanda, that are struggling with costs and the availability of alternative proteins.
Magofarm has the potential to provide a sustainable solution and become a reliable figure in this market. We aim to provide only the finest protein derived from insect larvae, guaranteed to reduce farmer's costs for feed and improve their overall production yield.
We breed black soldier flies for their larvae to be commercially used as an alternative protein source for livestock feed. This is done in two steps: First, we breed the black soldier flies at a fly farm in Musanze in order to collect eggs and produce larvae and second, we feed the larvae solely on organic waste and allow them to grow to the harvestable size of 220mg.
Within the facility, we dehydrate the larvae and package them in sacks of 25 and 50kg, ready for the client's distribution.
Additionally, we work closely with the farmers in our network to determine exactly how much protein the animals need in order to maximize potential yield. We then take that amount and deliver it weekly directly to the farm.
We firmly believe that if the 45 million small scale livestock farmers worldwide were able to access the right information and feed ingredients, we could feed the world sustainable and nutritious food.
What are the challenges working with local farmers?
When we present the farmers with our idea, they are typically drawn in by two things.
First, the overall animal health in terms of productivity. Insect protein is far nutritionally superior to soy, with the protein composition increasing up to 15%, which really excites the farmers.
Second, the cost for insect-based protein is $480 per ton, less than soybeans and the farmers are able to save on logistic costs due to our direct delivering capabilities.
However, this idea is new to the farmers, which makes it a challenge to get them on board. Therefore, we have put a tremendous amount of effort into building trustworthy relationships.
Rwanda has the unique situation of allowing the farmers to have their own associations and cooperatives. In order to adapt to this, we plan on working with the Rwanda Agricultural Board and other associations in order to increase our outreach potential. Once we can establish this partnership, we will have greater accessibility to share our product and service with new clients.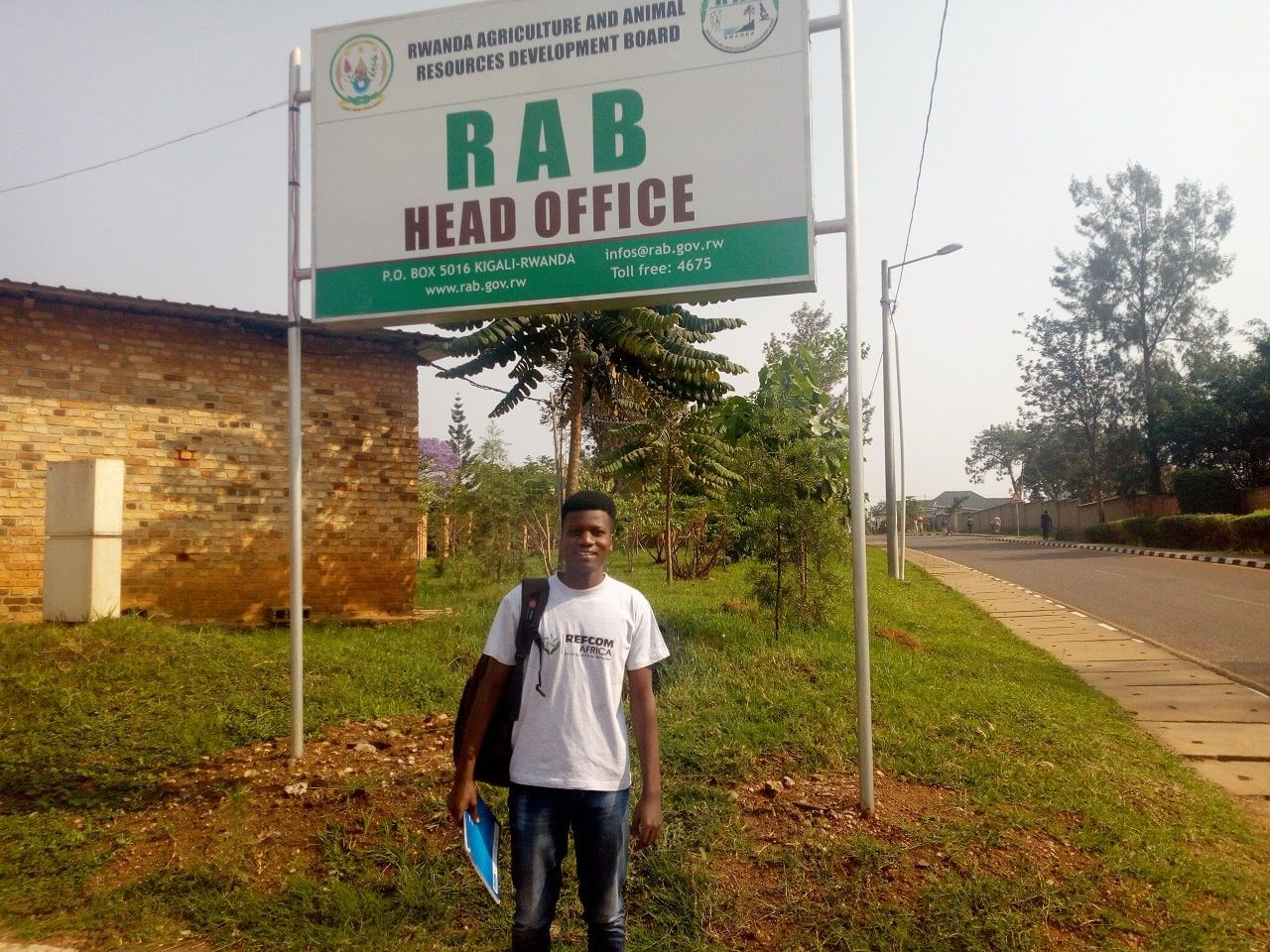 We also remind farmers on the original food source for animals, such as chickens, and how they naturally gravitate towards insects.
In the meantime, we are working on an SMS education subscription service, at no cost, to provide regular information about animal feeding for interested farmers.
We plan to launch a demonstration on this topic, comparing chickens that eat soy with those that eat insects; the farmers can then come to their own conclusions.
What is your long term vision?
So far, we have close to a hundred livestock farmers in our database and are strategizing on how we can foster interaction with them to learn how they best can be served.
One of our current verbal agreements is with an animal feed manufacturer, they want to make the switch from using soybeans to using our insect-based protein. Our agreement states that once production begins, fourteen tons of insect larvae will be supplied each week.
We have started this project at a small-scale level, in order for us to acquire samples to show to potential investors and farmers. We are now in the process of raising $1.5 million for us to create a large-scale facility to begin mass production.
Our founding team is made up of talented students from the African Leadership University. We are currently in the pre-revenue phase and our four-year goal is to target at least 15% of the addressable 22,500 farmers and four animal feed manufacturing companies in Rwanda.
We are not a short-term company looking for a temporary solution. We want to become the leading insect technology company in East and Central Africa.
Our focus is not limited to one insect; however, we are looking to provide a variety of options for a diverse group of organisms, including a long-term goal of introducing insect protein for human consumption.